Iran: Women's Expedition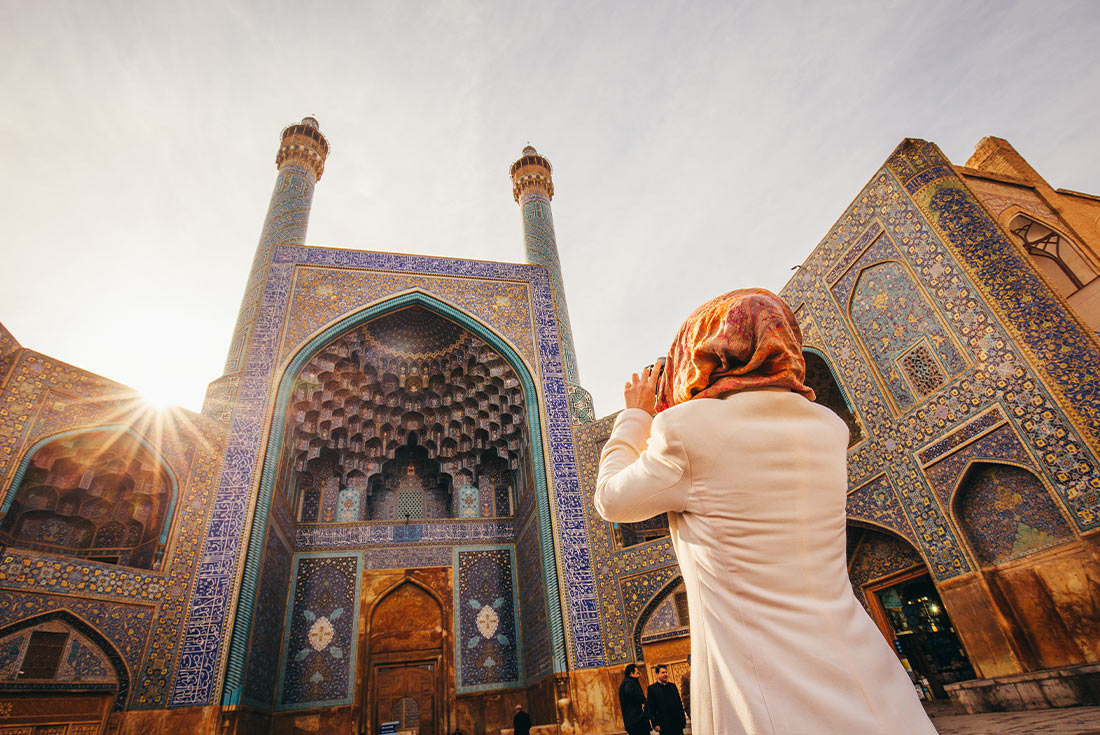 Iran: Women's Expedition
Discover culture and camaraderie in Iran through the lives of the women who live there on a female-only expedition. Spend 12 days exploring with a local female leader and a group of female travellers and partake in a range of experiences otherwise off limits to mixed gender groups. Step inside the hidden world of an Iranian beauty salon, wander through a women-only park, and travel by public transport in the women-only carriage of the metro, local buses and an overnight train. Experience rural nomadic life with Qashqai people, meet female entrepreneurs and hear secret recipes from those in the know. Learn from inspiring Iranian women – young and old, religious and secular, conservative and liberal.
Activities
Tehran - Welcome Dinner
Complimentary Airport Arrival Transfer
Tehran -Treasury of National Jewels
Tehran - Orientation walk
Tehran - Scarf-tying at a fashion boutique
Tehran - Home-cooked family dinner
Yazd - Jameh Mosque of Yazd
Yazd - Amir Chakmaq
Yazd - Zoroastrian Lunch and Village Visit
Yazd - Zoroastrian Fire Altar and Towers of Silence
Yazd - Traditional sweet shop visit and tasting
Abarkooh - Ice Houses
Shiraz - Aramgah-e Shah-e Cheragh
Aqda - Historical village visit
Shiraz - Women's only park
Shiraz - Bakery visit
Shiraz - Carpet Workshop
Shiraz - Eram Garden
Shiraz - Saadi and Hafez Tombs
Shiraz - Vakil Bazaar
Persepolis - Entrance and guided tour
Shiraz - Women's only Beauty Salon
Shiraz - Cooking class
Shiraz - Nasir al-Mulk Mosque
Bishapur - Tang-e Chogan Valley
Bishapur - Qashqai village visit
Esfahan - Khaju & Si-o-seh Pol Bridges
Esfahan - Vank Cathedral
Esfahan - Imam Square
Esfahan - Qeysarie Bazaar
Esfahan - City Tour
Kashan - Fin Gardens (entrance fee and guide)
Kashan -Tabatabaei Historical House
Complimentary Airport Departure Transfer
Highlights
See a different side of Iran as you travel with an all-women group and a local female leader, allowing you to forge connections with the women who call this country home.
Enjoy a picnic in one of Iran's women's-only parks, one of the few places women can enjoy the sunshine without a hijab.
Immerse yourself in rural nomadic life on a beautifully remote homestay with the Qashqai people. Enjoy a meal, sing songs, try on the local dress, and give bread-baking a go.
Step inside the fascinating hidden world of an Iranian beauty salon. You'll see that these are oases for many local women, providing a safe space for them to relax and (literally) let their hair down.
Experience the wondrous remains of the ancient capital of Persepolis – the scale and grandeur will leave you in no doubt that this was once the centre of the known world.
Take part in a hands-on cooking class where your local hosts will share age-old secret recipes and techniques before you feast on the fruits of your labour.
For over 30 years we've been taking travelers around the globe. That's over 30 years of adventures, of visiting new places and old friends, of countless unforgettable moments. More than 30 years of changing the way people see the world, on small group tours with like-minded Intrepid people.
As a responsible business, we've always been committed to being there for our travelers and the communities we visit. So, you can trust that when you travel with us, we won't just be there for you
...